| | |
| --- | --- |
| Summer Interns at Opportunity Bank | |
Community Banking Program Interns Gain Experience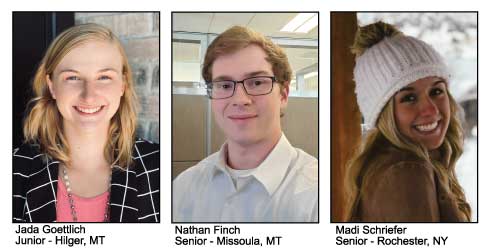 Opportunity Bank of Montana partnered with the Montana State University Jake Jabs College of Business and Entrepreneurship to host three interns during the summer of 2020. The internships are part of the College's Community Banking Program to provide hands-on, relevant, real-job experiences for students. As classes resume at Montana State University, this is what our interns had to say about their experience at Opportunity Bank.
Jada Goettlich, Retail Banking Intern, Farmers State Bank Branch in Denton
The most surprising thing I learned is that being professional doesn't mean there won't be any fun! I enjoyed the atmosphere and all of my co-workers in Denton and the other branches.
One thing I can take forward from this internship into a professional position is my experience in sending short but professional emails. Before, I wasn't sure what length or personal titles were necessary in this type of communication.
The next step for me is starting my new part-time teller job in a Bozeman Opportunity Bank branch! I am excited to see the differences between the branches.
Nathan Finch, Secondary Marketing Intern, Helena Prospect
Working in the Bank's mortgage department is a great opportunity to learn how banks set their mortgage rates and manage interest rate risks. It's a great opportunity to learn about mortgage capital markets.
I was surprised to learn how many different people work on a loan as it moves through the pipeline. From the loan officer, processors, underwriters, secondary marketing, to the post closers, all work incredibly hard to get loans completed accurately and as quickly as possible.
I am excited to have the chance to continue as a part time employee at Opportunity bank during the school year. I hope to carry the enthusiasm I have for learning new things into a professional setting and supporting my community. Another step I am taking is beginning to study for the Level 1 CFA exam which will take place in December.
Madi Schriefer, Commercial Banking Intern, Bozeman Oak
With this experience, I learned that commercial loans are looked at holistically. It's so interesting to analyze the financial relationship between a business and its owner. I'm grateful for the underwriting skills that I gained from practical experience and repetition that I would not have been able to do in a classroom.
One thing I take away from my experience at Opportunity bank is the value of treating coworkers with kindness. Every day, I watched my coworkers take interest in the wellbeing of myself and each other, and I believe it greatly contributed to a positive work environment. This is something I didn't think much about before working at Opportunity Bank. I now understand the value of taking moments to exude kindness to coworkers.
This fall, I will be entering my senior year at MSU Bozeman to complete my degree in Economics and Finance. I'm also teaching a 1-credit course at the University spending a few hours a week tutoring and guiding students through macroeconomics. Outside the classroom, I love to mountain bike and hike around the Bozeman area.