| | |
| --- | --- |
| How Opportunity Bank is Responding to the Coronavirus | |
Welcome Back!
We are happy to announce that the majority of our bank lobbies and several drive up locations will reopen on Monday, May 18 with regular business hours. Visit our locations page for current branch hours.

You'll notice a few changes in our lobbies upon reopening:
• Protective plexiglass shields have been installed at all teller stations. Some of our employees may be wearing face masks. You may also see fellow customers wearing face masks, though we are not requiring them in our branches. For security, if you are wearing a mask, we will require you to remove your mask briefly upon entering a branch.
• Customers are encouraged to take the bank pen you use during your visit. Any pens left behind will be sanitized after each customer. We will continue to suspend the service of coffee and treats in our branches.
• All work areas, door handles, desks, and drive-up canisters will be thoroughly cleaned and disinfected at regular intervals throughout the day.
• Please continue to follow 6-foot social distancing guidelines, floors will be marked to assist you. If lobbies become crowded and social distancing guidelines cannot be met, a staff member may ask you to wait outside until others complete their transactions. Please limit your time in the branch. You may continue to make an appointment to meet with any of our staff.
• Hand sanitizer will be provided throughout the lobbies. Please continue to wash and sanitize your hands regularly.
• Please, for the safety of all employees and customers, do not visit the bank if you do not feel well.
We encourage customers to continue to use online, mobile, telephone, ATM and drive-up banking options whenever possible while we all do our part to reduce the spread of this virus.
Thank you for your understanding and cooperation as we navigate this new normal together. We remain here to help you with all your banking needs.
---
We're here to help.
We understand this may be a challenging time for you financially and we are here to help. We understand every customer and every financial situation is unique. Please reach out to your local banker to discuss assistance that may be available upon request, including:
• Increasing your ATM withdrawal limit for access to your money
• Temporarily suspending any monitoring or charging of fees for excessive withdrawals or transfers from savings and money market accounts
• Increasing your Debit Card Point-of-Sale (POS) purchase limit so you can purchase the supplies you need
• Waiving penalties for early Certificate of Deposit (CD) withdrawal if you need access to your savings
• Loan payment accommodations if you are experiencing hardship
• Temporarily increasing mobile deposit limits (from $1,500/check and $2,500/day to $3,500/check and $5,000/day) so it's easier to submit a deposit outside the bank
• We are offering a hardship line of credit with no payments for 90 days to relieve some financial stress
You can find information below on the ways Opportunity Bank will continue to serve you during these challenging times. Thank you for being an Opportunity Bank customer.
Protecting your deposits
Opportunity Bank has remained a safe place to do business for nearly 100 years. The best place for your money is in a safe, sound, FDIC-insured institution like Opportunity Bank. Visit the FDIC's website for more information on how your deposits are protected.
---
For our Mortgage Loan Customers
Opportunity Bank of Montana understands your concern on how COVID-19 may be impacting your ability to make payments on your Mortgage loan(s).
Due to the increase in customer inquiries and in an effort to better assist Mortgage loans customers with quicker response times, we ask that you have the following information ready when speaking to one of our staff members or leaving a message:
1. Your full name (spelling of your last name)
2. Contact phone number
3. Type of loan (Mortgage) and Account Number(s)
For details about eligibility requirements and what is offered for mortgage borrowers impacted by COVID-19, click here.
Our loss mitigation team is currently experiencing high call volume, thank you for your patience.
---
Stimulus Payments
We encourage you to visit the IRS Economic Impact Payment stimulus check information page for the most up-to-date answers to your questions, including:
• Will I get a payment? How much will it be?
• When and how will I receive payment?
• Do I need to do anything to get a payment?

No action is needed by most people at this time. The IRS will calculate your payment based on your 2019 tax return. For those who have not yet filed their 2019 tax return, the IRS will use the information from your 2018 tax filing. Those who aren't typically required to file a tax return will need to submit a simple tax return to receive the stimulus payment. Information on how to do so will be available at IRS.gov.
There is no signup or enrollment for the federal stimulus. Any email, phone call, text message, social media message, or mailed letter requesting personal or account information is a scam.
The IRS has what it needs to send you a check. The economic impact payment will be deposited directly into the bank account reflected on your tax return. If you didn't provide a bank account for direct deposit, the IRS plans to launch a web-based portal mid-April to provide your banking information to the IRS online. Please use extra caution to make sure you are visiting the official IRS website before entering any personal or account information.
The IRS will not call, text you, email you or contact you on social media asking for personal or bank account information – even related to the economic impact payments. Also, watch out for emails with attachments or links claiming to have special information about economic impact payments or refunds.
---
Safety Precautions
To protect the health of our customers and employees, we ask that you observe the following precautions while conducting business with Opportunity Bank of Montana:
• Avoid meeting in-person with a Banker if you are not feeling well or may have been exposed to the virus
• Use sanitizing supplies provided throughout the Bank and wash your hands regularly
• Avoid personal contact and maintain a physical distance of 6 feet from other people, including other customers or employees
• Whenever possible use our digital banking services or call us directly to conduct your banking
To do our part in reducing the spread of the disease, we have implemented the following safety precautions:
• Temporarily closed our branch lobbies
• Increased the level of cleaning in our branches, including regular sanitation of drive-up tubes and ATM buttons
• Suspended all business travel by our employees and discouraging personal travel by our employees
• Encouraging employees who don't feel well to stay home along with implementing emergency paid leave to assist employees impacted by COVID-19
• Allowing many employees to work from home or stagger shifts to encourage social distancing
Click here to review the CDC's complete list of preventative actions.
---
Stay Informed
Scams playing on fears and public panic related to the coronavirus outbreak are on the rise.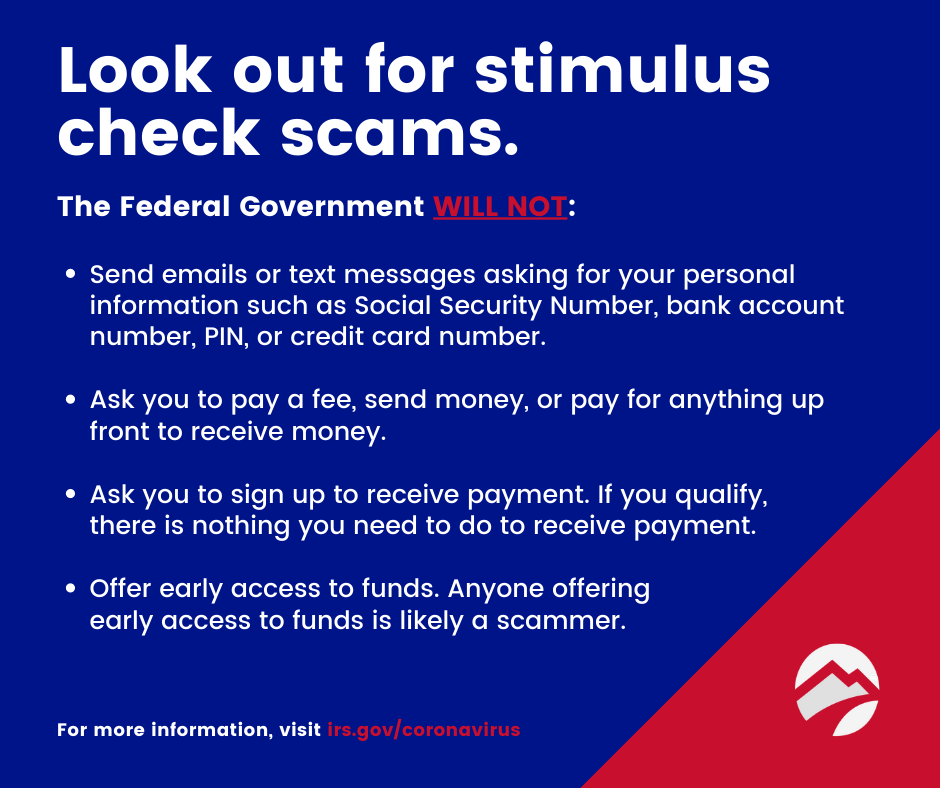 For more information on protecting yourself from scams related to the pandemic, visit irs.gov/coronavirus or ftc.gov/coronavirus.
---
Stay up to date on COVID-19
Helpful links to keep you informed:
• The Centers for Disease Control and Prevention (CDC) has up to date information about COVID-19 and how to protect yourself and your loved ones.
• Banks have been designated as "essential businesses" under the Governor's Stay-At-Home Directive
• The US Department of Treasury website provides information on the CARES Act, Stimulus Payments and the Paycheck Protection Program
• The Small Business Administration website provides small business guidance and loan resources
• The White House Coronavirus Task Force website provides helpful updates with the latest information