Personal Solutions

We offer personal banking solutions to help support you on your path to a strong financial future. Visit with a Relationship Banker today to get started.
Visa® Debit Card

Opportunity Bank is a member of the MoneyPass® ATM network, providing surcharge-free ATM access at thousands of ATMs Nationwide using your Visa® Debit Card.
Your Opportunity Bank of Montana Visa® Debit Card is an enhanced EMV chip card providing security and the flexibility to make purchases at directly from your checking account. Instead of writing a check for purchases, present your Debit Card anywhere Visa® cards are accepted.
Debit Card Fraud Text Alerts
We want to make sure that using your debit card is as safe and convenient as possible. If we suspect a debit card transaction may be fraudulent, our fraud center will text you to confirm the transaction. The merchant name and dollar amount will display in the text message for you to review. We will only ask you to verify if you made the purchase - we will never ask for your account number or other personal information. If you confirm the transaction is valid, no other action is required, you may continue to use your card. If you do not respond, or respond that the transaction is not valid, this will automatically trigger a block on your debit card and you will need to contact the bank to lift the card restriction.
If we have your mobile phone number on file, you won't need to do anything to enroll. If there is suspicious activity with your card, we'll send an alert. It's that easy. If you need to verify or update your mobile phone number, call us at 1-888-750-2265.
To opt out of Enfact Fraud Text Alerts, reply STOP when a text message is received. Cardholders who opt our will continue receiving only phone calls regarding potential fraudulent card activity.
*Wireless carrier charges may apply
Lost or Stolen Card?
If your card has been lost or stolen please contact the bank immediately during regular business hours. Outside of banking hours, please call 1-888-750-2265.
Visa® Credit Card
Credit cards can provide security, convenience and rewards. Stop in at any branch to pick up an application, or apply online. Our Visa® Credit Card includes the following great features:
Competitive rates*
No annual fee
Earn reward points for merchandise and travel
Travel Accident Insurance
Personal service provided by your Relationship Banker
Visit mycardstatement.com to view your current balance and activity
ScoreCard Rewards
ScoreCard Rewards allow Visa® Credit Card holders to earn points on a variety of everyday purchases.
Earn one point for every net dollar in retail purchases
Redeem points for air travel, rental cars, cruises, hotels or other travel options
Points may also be redeemed for a wide variety of merchandise from the ScoreCard Catalog
Redeem your ScoreCard points online at ScoreCard Rewards Program
Personal Overdraft Protection
Have peace of mind in the event that your checking account balance is not sufficient to cover a check.
Overdraft Protection Line of Credit*
This service transfers funds automatically from your overdraft protection line of credit to your checking account.
*On approved credit
Overdraft Sweep
An Overdraft Sweep allows for checking, savings and money market accounts to automatically sweep (move) funds to avoid an overdraft on your account. Visit with a Relationship Banker today for full disclosures.
Overdraft Privilege
Overdraft Privilege Service adds value to your eligible Opportunity Bank checking account. Rather than automatically returning unpaid non-sufficient funds, we will consider payment of your reasonable overdrafts, as long as your account in good standing.
Learn More about Overdraft Privilege
eStatements for Checking & Savings
Sign up within Online Banking to download, save, view or print your PDF statements online
Available for Personal and Business customers enrolled in Online Banking
Receive automatic email notifications when your statements are available, no need to wait for your statement to arrive in the mail
Easily access up to 18 months of statements online anytime
Reduce your risk from stolen paper statements
Direct Deposit
Eliminate extra trips to the Bank! It's easy to arrange to have your payroll or Social Security check deposited directly into your Opportunity Bank of Montana checking or savings account. There's no need to worry about checks being lost in the mail and best of all this service is FREE.
Switch Kit
Change isn't always easy, but changing your bank account is. Make the move to Opportunity Bank with our easy online Opportunity Bank of Montana Switch Kit.
Personal Online Banking
If you have an active account and would like to begin accessing your account information online, contact a banker for your PIN, then select NEW USER to get started.
Contact your local banker for your enrollment PIN
Click on NEW USER, located in the Online Banking login box from the home page, then, respond to the questions in the User Enrollment Box that appears on your screen
Please review our Online Banking FAQs if you have additional questions
Mobile Banking
With the Opportunity Bank of Montana Mobile Banking App, you can check your available balances, view transaction history, transfer funds between accounts, pay your bills, contact your local branch, deposit a check, and find ATM branches in your area, and more.
To download our mobile app, visit your phone's app store and search for "Opportunity Bank" or download below.
Mobile Check Deposit
If you can take a picture, you can deposit a check. Open the Opportunity Bank of Montana mobile app, click on the check deposit icon, and follow prompts. Using your phone's camera, take a picture of the front and back of your check. You must endorse the check with your signature and include the words "For Mobile Deposit" on the back.
Bill Pay
Save time and postage by using your personal computer to make payments to any business or person.
Popmoney®
Popmoney®* is a person-to-person electronic money transfer service. With this service you can send your brother money for his birthday or pay back a friend for your half of lunch. This service is included in Opportunity Bank's Online Bill Pay product. Once registered, click on the Popmoney tab to enter your payee's contact information, the payment date, and the dollar amount to schedule and confirm your payment.
To send money, all you need is the name and email address or mobile number of the recipient. The recipient will get a personalize email or text message indicating you've sent them money with instructions on how to retrieve it. If the recipient's bank or credit union offers Popmoney, the recipient can simply use online banking/ bill pay, and the money will go directly from your checking or savings account to his or hers. If not, the recipient can go to Popmoney.com to indicate where the money should be deposited.
There is a nominal fee for each transfer. Daily and Monthly payment limits do apply. Limits are set per payee and can be viewed within Popmoney. Limits are not adjustable. Unclaimed payments will be re-deposited into the originating account after 10 days.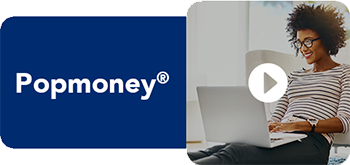 | | |
| --- | --- |
| Receive Money | Free |
| Regular Payment Fee (per payment) | $0.75 |
| Next Day Payment Fee (per payment) | $1.50 |
| Request Money Fee (per payment) | $0.75 |
Fees are charged at the time you send the payment. Please refer to Terms of Use. Overdraft fees imposed by your financial institution may also apply. There is no fee if your request is not paid. The fee amount is subtracted from each payment sent to you or, you can choose to transfer the fee to those from whom you are requesting money (note that the fee is included in your payment limits).
*Popmoney is a registered trademark of Fiserv, Inc., or its affiliates. Terms and Conditions apply. Popmoney personal payment services offered at Popmoney.com are provided by or through CheckFreePay Corporation, a licensed money transmitter, and/or its affiliate CheckFreePay Corporation of New York, which is licensed and regulated as a Money Transmitter by the New York State Department of Financial Services, each a wholly owned subsidiary of Fiserv, Inc.
Auto Transfer Payments
We make it easy to save money with our automatic transfer service. We transfer a fixed dollar amount from your Opportunity Bank of Montana checking account into your savings, Christmas Club, money market or IRA free. We also pay your Opportunity Bank loan payments automatically from your Opportunity Bank of Montana checking or savings free. Receive a quarter percent discount on your new Consumer Loan when you sign up for this option.
FAQs
Have questions? View our Frequently Asked Questions
Telephone Banking
24-hour access to your Opportunity Bank accounts, toll free, from anywhere in the continental U.S. by calling
Call 888-750-2265 option 1 anytime from a touch-tone telephone

Press the appropriate button on your touch-tone phone to select the type of transaction or information

Enter your Account Number and PIN number, then follow the instructions
*When transferring funds using either the Internet Banking site or the 24-hour phone service, your account balance will immediately reflect the current transaction. Posting of the transaction may be delayed until the next business day if performed after 6pm MST Monday - Friday.
Electronic Federal Tax Payment System
EFTPS is a system for paying federal taxes electronically using the internet. EFTPS is offered free by the U.S. Department of Treasury.
Safe Deposit Boxes*
Have peace of mind knowing your valuables and records are safe in a safe deposit box. We offer affordable rental rates at many of our locations and discounts for seniors (age 50 or older).
*No insurance coverage is provided on box contents by FDIC or Opportunity Bank of Montana
Reorder Checks
Order your checks online from Harland Clarke, our preferred provider. Ordering checks online from Harland Clarke is as safe and secure as ordering them in person or over the phone. The site is Verisign secure and TruSecure certified, so your transactions and account information are safe and completely confidential. You can read about check security features on the Harland Clarke website.
You may also contact your local branch for assistance with placing a check order.
Change of Address
Keep Opportunity Bank of Montana informed of your correct address by completing the Change of Address form. You may complete this form in person at any of our branch locations.
Print out this form

Sign the form in ink and

Drop the form off at any Opportunity Bank location or mail it to:

Opportunity Bank of Montana
Customer Service Department
PO Box 4999
Helena, MT 59604-4999
Disclosures
Click to view account disclosures.