Merchant Services
Reduce your costs and increase your cash flow with our merchant services program. We provide a cost-effective service with some of the lowest credit card processing rates in the industry.
Credit and Debit Card Processing
ACH/EFT and check processing
Mobile Smartphone and wireless terminal processing
Internet Gateway Processing
Gift/Loyalty Program Cards
ATMs
Merchant Cash Advance
Other special features of our program include:
Fast approvals for all major credit cards
NO CONTRACTS or early termination fees
24/7 customer support
Detailed Online Reporting Analytics of your business
REDUCE YOUR COSTS an INCREASE and IMPROVE CASH FLOW.
Gift Cards – a powerful promotion tool that offers significant return on investment.
Electronic Check Imaging – improves cash flow by depositing funds every day.
ATMs – provides an in-store cash option.
Let us provide you a FREE ANALYSIS of your current Merchant Services program. We promise you...
Complete understanding of your charges
A review of the latest technology and options
Merchant Capture
Our Merchant Check Capture provides you the ability to image-capture check payments at your business location and electronically deliver the images and MICR information to Opportunity Bank over a secure Internet connection. No more trips to the bank!
Merchant Check Capture enables you to:
Consolidate accounts
Eliminate trips to the bank
Speed up your access to funds
Reduce time to research checks and deposits
Make deposits at your convenience
Merchant Card Services
Accepting Credit Cards has never been easier and more transparent!
With Opportunity Bank of Montana's Merchant Card Services, you'll have access to fast and easy-to-use processing systems that will give your customers the payment options they desire. Our secure tokenization and dependable products are designed to accept all payment types, including chip cards, and are all provided at competitive rates with the service you need to help effectively manage your business. Not only do we allow you to process with the Bank you trust we also have best in class technology solutions to cut down the time you have to spend on reconciling funds. By working with our preferred LOCAL merchant vendor, Opportunity Bank of Montana can enable your business to accept credit and debit cards, EBT transactions and customer checks with as little paperwork and hassle as possible. At the same time, our competitive discount rates and low monthly fees help you protect the bottom line. 
Solutions:
EMV Retail terminal based solutions                                                          
Pay on the GO-MOBILE solutions (Apple and Android)
eCommerce Payment Gateways
POS software solutions
Quickbooks plug-in integrated solutions
ACH/Check processing
Gift Cards/Loyalty cards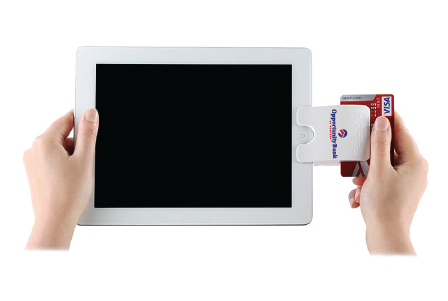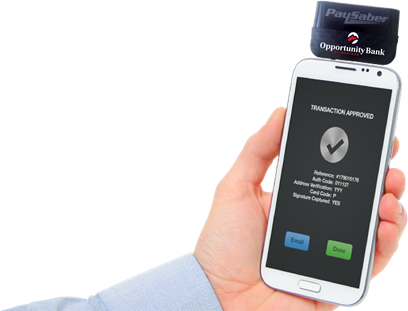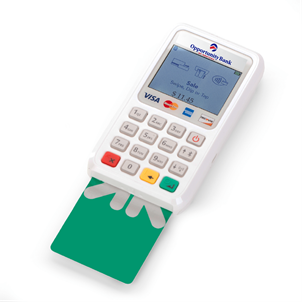 What we offer:
LOCAL services
NO contract required
Superior reporting technology
Reconciliation technology and reporting
Next day deposits/funding
Security/PCI breach coverage
Username: Go
Password: ApplyNow
Business Credit
Keep your business spending separate from your personal with our Visa® Platinum Business credit cards.
Employee cards at no extra cost
Consolidated Statements and Comprehensive Reporting
Chip Card Security
Fraud Monitoring and Zero Fraud Liability
Travel Accident Insurance1
Personal service from people you know
Small Business Rewards Credit Card
No annual fee and 0% introductory APR on purchases and balance transfers. Plus, competitive rates starting at 12.24% to 22.24% based on creditworthiness.* Earn one point for every net dollar spent. Redeemable for merchandise and travel awards. Visit cRewardssm for details.
Ask a Relationship Banker today
1 Coverage applies when the entire cost of the fare (less redeemable certificates, vouchers, or coupons) has been charged to the card. Your account must be in good standing. Restrictions to coverage may apply.
This card is issued by TCM Bank, N.A. Subject to credit approval.
Business Debit
Visa® Business Checkcard
The Visa® Business Checkcard is an enhanced ATM card that gives you the ease of making purchases at merchants worldwide. Please contact a Relationship Banker for details.
Foreign transactions require prior activation, please contact customer service at your local branch. Payment for each purchase is deducted automatically from your Opportunity Bank checking account.
If your card has been lost or stolen please contact the bank immediately, during weekends or after hourscall 1-800-472-3272.
This convenient card is FREE (on approval). Our Visa® Checkcard is on the MoneyPass network, making it not only FREE but also easy to use your debit card at thousands of merchants and ATM machines worldwide.
Business Loans
Let's start something together! Opportunity Bank offers a full line of business loan products and services and is an active participant in the Small Business Administration (SBA), Board of Investments and Rural Business Development programs.
Commercial construction and term loans
Loans for working capital and inventory purchases
Equipment loans
Business lines of credit
Letters of credit
Loans for multi-family housing
Merchant card services and credit cards
Come in or call one of our friendly Loan Officers. Appointments are appreciated but not necessary!
Online Banking
Streamline your Business Banking experience and stay organized with our easy online account management tools.
Enhanced Online Security
Quick Pay Zone – Bill Pay access right from your home page
Wire Manager with tokens for transaction authentication
Integrated ACH with tokens for transaction authentication

Direct Deposit of Payroll
Vendor Payments
Account Drafts

Integrated Remote Deposit (Merchant Capture)
Administrative Tools
Account Alerts – receive email or text alerts about your account activity
Export – easy to export information to financial management software
Real-time stop payments
eStatements
Positive Payee
Coming Soon!
Opportunity Bank's Positive Payee advanced check protection fraud system.
Online Education Center
Watch the video tutorials at right for log on and enrollment instructions.
Account History and eStatements:
18 months of eStatements are available
Account Alerts:
Just click the Alerts button on the home page to set up your Account Alerts
Bill Pay:
E-bills securely deliver your invoices to your Bill Pay account without the hassle of going to the post office or buying a stamp
Tokens:
Receive a security token for additional protection when completing certain transactions

Tokens are small, connectionless devices that generate a one-time password
Watch the video tutorial on this page to learn how to activate and use tokens.
Operating System & Browser Requirements
Supported operating systems for Business Online Banking:
Windows 7, Windows 8 or newer
Mac OS 10.9 or newer
Supported Browsers:
Internet Explorer 11 or newer
Mozilla Firefox (Current Version)
Google Chrome (Current Version)
Apple Safari 9.1 (Mac OS only) or newer
If you have an older version, please update your operating system or web browser to these minimum requirements.
Bank EFT
Our business EFT Service is the electronic transfer of money from one bank account to another. Click here for more details.
ZRent
ZRent is a Landlord and Property Manager Tool for Automatic Rent Collection. ZRent is beneficial for both the tenant and the landlord. It works by automatically deducting rent payments from the tenant's bank account and deposits them directly into the landlord's account. After a one-time registration process, tenants can set and forget their monthly payments, and landlords will no longer have the hassle of collecting checks and making the trip to the bank. ZRent eliminates late or lost rent payments. ZRent is completely free for all tenants to use. It is also free for landlords with an Opportunity Bank operating account. ZRent is brought to you by Opportunity Bank of Montana. Contact a Relationship Banker today, or check it out for yourself at ZRent.net.